Chung-Man Tam Joins Aiwyn Board of Directors
---
Charlotte, NC - September 15, 2022 - Aiwyn, a technology company helping accounting firms streamline their work-to-cash cycle and practice management operations with artificial intelligence (AI), today announces that Chung-Man Tam, Chief Product Officer at Coalition, will join Aiwyn's Board of Directors.
As Chief Product Officer at Coalition, a leading provider of cyber insurance and security tools, Tam is a visionary for leadership and is known for developing innovative solutions that expand into full product suites. Prior to Coalition, Tam oversaw product development for Affirm, a publicly traded financial technology company and leading innovator in progressive lending and buy-now-pay-later services. Tam has also held roles in product and engineering teams at Google, Yahoo! and Microsoft, as entrepreneur-in-residence at Sequoia Capital, and as a C-level leader of successful startups like Chartboost (acquired by Zynga).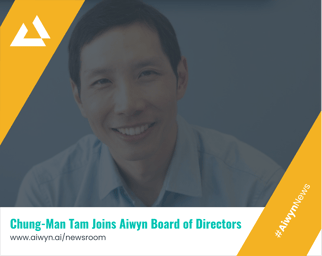 Tam's expertise in scaling product organizations in fast-growing technology companies will be instrumental to Aiwyn's leadership team as the company expands its team and its Intelligence-Based Billing™ platform to meet fast-rising customer demand among leading CPA firms.
Said Aiwyn's Chief Executive Officer, Justin Adams: "Chung-Man Tam brings strategic expertise on product development and expansion to the Aiwyn team, which is just what we need as we continue to evolve and grow our solutions to fix the challenges in which professional service workers face daily. We are thrilled to welcome Chung-Man to Aiwyn!"
Said Tam: "It is an honor for me to join Aiwyn's Board of Directors. This company has a passion and skill set that makes them the perfect players to rapidly expand their solutions and continue to make a huge impact on professional service workers. I'm excited to get started sharing my knowledge and helping Aiwyn continue to pave the way for meaningful innovations."
For more information, visit www.aiwyn.ai.
About Aiwyn
Aiwyn helps top-ranked professional services firms revolutionize their work-to-cash cycle, resulting in faster cash flow firm-wide, more productive and fulfilled professionals, and a superior client experience. With Aiwyn's Intelligence-Based Billing™ (IBB) platform, high-value firm executives, partners, and staff are liberated to deliver more value to clients and work at the highest end of their professional expertise. Aiwyn offers a suite of solutions built on the IBB platform that speed up the client payment cycle and provide firm leaders with predictive insights to drive smarter strategic growth decisions. Benefits of Aiwyn to accounting and law firms firms: partners can save time, bill faster, and shed administrative headaches; finance leaders can reduce days-in-WIP and days-in-AR, speed up client payments, and smooth out cash flow; executives can better protect financial health with predictive insights and controls, and improve their firm reputation by offering best-in-class experiences to clients.